Yet all of these interaction points, between serious (hardcore) gamers and mobile gaming, between boardgames and mobile games, and between videogame design notions and boardgame-like-ness, are sources of tension. But in every issue there is an opportunity, right? I can't help but forecast a bit into the future and envision an ecosystem of games that evolve at this nexus of gaming pressures: original and cross-platform digital games that embrace "boardgame-like" design principles and appeal to both serious/hardcore gamers as well as a broader segment of the market.
This post will break down these trends and provide some reflection on what I think it could mean. This is all total speculation and reporting based on my observations and discussions with others. Discussion of all forms is encouraged! Let's get on with the show.
The Growing World of Boardgames
I'll start off by
quoting myself
, as is the proper thing to do when one is in need of a reliable source of data! A thread on BGG was discussing the increase in the number of games released every year, and I pulled down some of BGG's data to see what the trends looked like.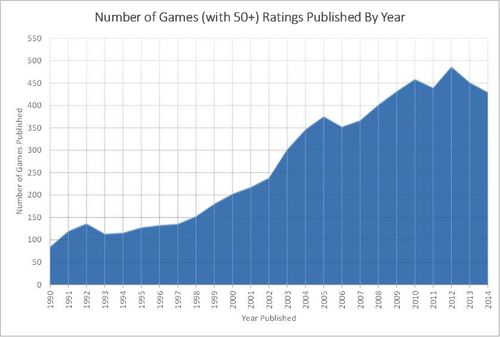 Mezmorki wrote:
METHOD: I searched by year for games (not expansions) and tallied how many had 50 or more ratings to use in weeding out games that aren't actually published or widely distributed. I also made note of the top-rated game each year as a sort of reminder/benchmark.

Here's the data table:

YEAR QTY Top Rated Game
1990 85- The Republic of Rome (201)
1991 120 Tichu (62)
1992 137 Modern Art (179)
1993 114 Magic: The Gathering (121)
1994 116 Blood Bowl (Third Edition) (161)
1995 128 El Grande (26)
1996 133 Hannibal: Rome vs. Carthage (65)
1997 136 Tigris & Euphrates (33)
1998 153 Samurai (123)
1999 181 Paths of Glory (45)
2000 203 The Princes of Florence (59)
2001 218 Hive (145)
2002 239 Puerto Rico (5)
2003 302 YINSH (96)
2004 347 Power Grid (11)
2005 376 Twilight Struggle (1)
2006 353 Through the Ages (4)
2007 367 Agricola (6)
2008 402 Le Havre (13)
2009 432 Dominion: Intrigue (21)
2010 459 7 Wonders (18)
2011 440 Mage Knight (8)
2012 487 Terra Mystica (2)
2013 452 Caverna: The Cave Farmers (3)
2014 430 Dead of Winter: A Crossroads Game (16)

2015 69 XCOM: The Board Game (400)
Basically, the number of games with any significant presence (enough to get 50-ratings) has grown from around 200 games/year circa year-2000 to around 400 games/year circa 2015. That's a lot of growth in a relatively short period of time, and says nothing about the volume of other games that get pushed out each year that doesn't make the cut of 50+ ratings (1000 or more games per year easily). This trend probably isn't surprising to anyone in the boardgaming world, but it's worth pointing out nonetheless, especially for people that aren't as deep into this slice of the gaming hobby.
Why is this relevant? I think boardgames of the modern sort are bringing "thinking" back to people as a form of entertainment. Certainly the amount of thinking can vary widely between a heavy weight eurogame and a social party game - but most at least it's pushing people into learning something new, interacting, and applying their brains in some capacity; which is a nice move away from slumping into a TV-coma. I wonder whether the increasing popularity of boardgames might be a mechanism for getting the broader public interested in games as a whole.
---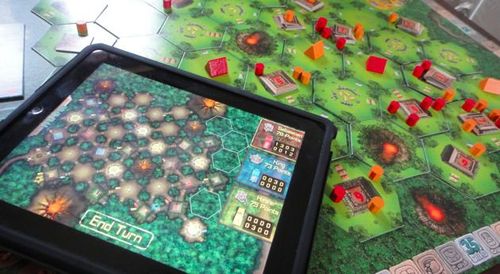 Surging Mobile App "Ports" of Boardgames
Having a digital (and most likely mobile) version of a boardgame for many people is tremendously appealing. For many of us in love with the hobby, finding time to attend an evening of gaming can be a challenge and is fraught with it's own bundle of frustrations (choosing which games to play, finding enough time, coordinating schedules, having enough beer, etc.). The unfettered convenience of having a library of boardgames at your finger tips that you can play asynchronously with your buddies (or total strangers) or against the AI opponents is remarkable.
True, you lose the face-to-face interactions and some of the tactile pleasures of manhandling meeples, but I also think a nicely designed mobile app can have it own charms. I recently asked people what the appeal was for pass-and-play, and to my surprise a lot of people jumped in and commented about how much they use pass-and-play modes on mobile boardgame apps. In such cases you can still retain a bit of face-to-face interaction, so even that is less of an issue.
Others have also been commenting, with increasing frequency of late, about the rise of solo boardgaming. Solo gaming, in a way, feels like the natural extension of cooperative games, you just remove the other players. Furthermore, a lot of my geekbuddies have been pointing out how complex eurogames are perhaps better as solo experiences anyway. It sets the stage for mobile gaming.
I also wonder about the pure practicalities of playing mobile boardgame apps. It's a LOT cheaper to buy the mobile version of Eclipse or Small World, or countless other games than it is to buy the physical version. For the list price of a mid-size boardgame I can buy half a dozen boardgame apps. It also takes up zero physical space, and with the millennial trend towards minimalism, I can't help but think the digital versions have an additional appeal for reducing the amount of junk you need to lug around when life keeps you on the move.
Last, I keep thinking about the environmental and logistic realities of physical boardgames. How much energy is spent manufacturing a cargo container worth of components and shipping it around the world by boat and train, warehousing it all, lugging it to conventions, sending it to distributors and then to stores, etc. It's kind of crazy to think about it. Digital games utilize existing IT infrastructure and have comparably less impact per game. Plus, digital games aren't likely to go out of print. How many digital apps are no longer available, for whatever reason, compared to how many boardgames are out of print?
---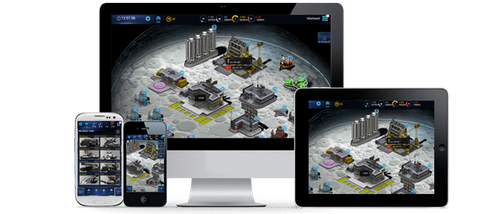 The Cross-Platform Videogame Paradox
Increasingly I feel that developers are designing games to be cross-platform between desktops (PC/Mac/Linux), console systems (PS/XBox), and mobile devices (iOS/Android). Other things being equal, if you can sell a game across multiple platforms you have the opportunity to reach a broader audience and market, and can leverage your work in creating a game to earn more revenue. The Unity game development engine and software suite is likely contributing to this trend, as (from what I can gather in my readings) Unity makes it relatively easy to deploy a game across platforms.
Curiously, this trend seems to be on the rise despite a lingering stigma around mobile gaming. As a recent
TouchArcade article
highlights, there is still a widespread stigma from larger videogame circuits directed at mobile games. The example the TouchArcade article references is the game
Race the Sun
, an endless runner type game that was intended to be a mobile game. However, the savvy developers released their game on desktop platforms first, garnering attention and coverage from non-mobile outlets and avoiding the "just another mobile game stigma" in the process. They subsequently released the game on mobile platforms, garnering further attention for bringing such a cool desktop game to the mobile market. Its crazy to me that this should ever happens, and underscores that people are making judgement about the game and its merits based purely on the platform.
This stigma is due to a few different factors I think. First, for many serious gamers looking at the mobile market all they see are free-to-play (i.e. pay-to-win or timer-based) games, which is the antithesis of what serious gamers want. This perception is wrapped up in fears about the "dumbing down" of the gaming industry (which has some truth to it). The growth of free-to-play game models is also spilling over into a deskstop/console games, and understandably this has many gamers very worried and concerned about the fate of serious games.
I also think this stigma is fueled by many serious gamers (both players and media personalities) questioning why they or any other serious gamer would ever
want
to play on a mobile device in the first place. I recently
interviewed Rocco Bowling
, the developer of
Starbase Orion
, for
eXplorminate
. Rocco had this to say:
Rocco wrote:
In my non-scientific, common-sense reckoning of things, as a person develops in their life, more and more things start to take priority. Gamers graduate school, gamers get jobs, gamers have kids. These things take up more and more of their time, leaving less and less time for dedicated gaming. Your 4 hours a night turns into 1 hour a night, which turns into gaming only on Tuesdays. What's a core gamer like that supposed to do? Quit gaming? Succumb to the inane world that is "casual" mobile gaming? I believe these dedicated, but suddenly very busy, gamers would love to play a core game during the bits and pieces of time they have throughout their day.

Too often people associate "mobile" gaming with "casual" gaming. I have much respect for companies like Super Evil Megacorp; they made VainGlory, a core game on mobile without compromise. I believe there is a bright future for core gaming on mobile, for those crazy enough to walk that path.
I think Rocco's quote tells a big part of the story and explains, for Rocco at least, why a premium game like Starbase Orion has been so successful as a serious "gamer's game" despite being on a mobile platform. And there are plenty of other reasons why a serious/core gamer would want to play on mobile as well. Many of these I discussed in the previous section: convenience, asynchronous play, portability. But this hidden market of premium game is at odds with the stigma surrounding mobile games as a while. When you consider the financial incentives developers have to go cross-platform, it does create a bit of a paradoxical situation: You want to make a game cross-platform, but doing so opens you up to the anti-mobile stigma. What a mess.
---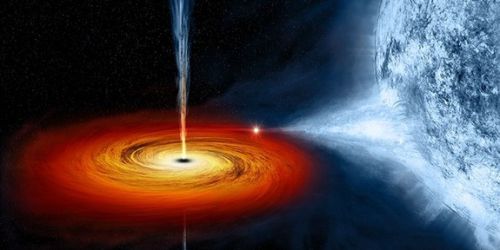 Debunking The Myth: "Serious Strategy Games Won't Happen on Mobile"
I discussed this issue on another forum, and I want to refine my response and present it here as part of this larger conversation. Of all the possible "serious game genres" like first person shooters, real-time strategy games, RPG's, I think "strategy games" as a broad umbrella are ideally suited to mobile platforms. Let's break it down a little:
Why would anyone play a "strategy game" on a mobile device?
Convenience
. As Rocco said, mobile devices can go anywhere with you, and the accessibility they provide is good whether you are waiting in line for 30 minute, on a 5 hour plane trip, trapped in a hotel, on vacation, or hanging out in your living room. Most mobile games/apps can be opened and launched in a fraction of the time it takes to get a game launched on a PC (close down other resource hogging applications, launch steam, sign-in, etc…). The "barrier to entry" (i.e. booting up a given game) is much lower in mobile than PC.
Comfort
. Basically, playing a mobile game is not sitting at your desk on your PC, something a lot of people spend their entire workday doing. I can pull out my iPad when sitting on my couch, or next to the fire, or sitting under a tree by the river, or up in bed before I pass out for the night, etc. I don't need a full keyboard + mouse setup to play most strategy games, so I don't need (or want) to spend more time at a desktop if I don't have to.
Touch-interface
. This is somewhat related to the above about comfort, but for me, and I suspect plenty of other people, a well designed touch-interface has its own tactile charms. That UI button is closer to feeling like an "actual button" when I press it with my finger directly. With a traditional keyboard + mouse there is an extra layer between what you see on your screen and how you interact with it. I'm not intending to debate that one set of inputs is better than the other (they all have pro's and con's), just recognize they are different and can be appealing in to different people and different circumstances.
Multi-player and asynchronous play.
For multiplayer asynchronous turn-based games, having the game on a mobile platform is extremely beneficial. You get a notification (e-mail, game-center popup, etc.) that "it's now your turn" and you can load the game up from anywhere, jump in quickly, take your turn, and pass the baton to the next player. The convenience factor of mobile really helps facilitate multiplayer gaming for strategy games that would otherwise be relegated to extended live-play sessions or play-by-email (PBEM). It takes me longer to boot up my PC and launch most strategy games than it takes me to actually complete my turn, and I can do all of this much quicker on a mobile device.
Preference
: For me, the only reason I play a given strategy game (or other mobile friendly genre) on my desktop and not on my iPad is because they game I'm interested in doesn't exist for iPad/iPhone. I simply find it more enjoyable to game on my iPad and I don't feel that I am missing any part of the PC/Desktop experience. I use headphones, so sound isn't an issue, and retina displays coupled with a much closer viewing distance negates in part the benefit of having a big monitor. And, if there there was ever a genre of games that can stand on its mechanics and game design, rather than an audio-visual wow fest, it's strategy games.
Mobile devices can't handle the demands of modern strategy games! It'll never happen!
Complexity.
It's worth noting that the games that spawned the 4X genre (Civ, Master of Magic, Master of Orion, etc.), and are at high complexity end of the strategy game spectrum, ran on computers slower in every way than a decent smartphone or tablet is today. If those older games are the benchmark for our complexity demands, why again can't such a game be accommodated on mobile? There are plenty of examples of quite complex and deep games on mobile platforms already (a port of the classic PC game Ascendancy, Starbase Orion, etc.).
Reading about the design process for older games, where processing and memory limitations were a far more limiting design obstacle, I see no reason why games of similar complexity to one's from 20+ years ago can't work on today's mobile devices.
Rather, it is our
graphic expectations
that are probably the biggest hardware limitation between mobile and desktop. Personally, I think a good and engaging visual design is more important than flashy graphics for a strategy game. And it's entirely possible to make gorgeous looking games that work on mobile. But there are limits to what mobile can do graphically compared to desktops, and if the most cutting-edge graphics is a major requirement for, obviously that's an issue. Personally, I feel strategy games have a less pressing of a need for ultra impressive graphics anyway, as their game play is what I care about.
User Interface
: The UI does need to be more streamlined to work on a mobile's limited relative screen space. Yet that isn't a bad thing. Personally, making an effective and intuitive UI for mobile can result in a better UI anyway, as it forces the UI design to be more effective and efficient in its presentation. In some ways, its too easy to make a horrendous UI on PC and get away with it (examples I probably don't need to mention abound) by spamming popups and tooltips all over the palce. Restrictions and limitations can foster innovation, and I think games intended for cross-platform have a greater need for an exceptional UI to make it work, and so it raises the bar.
---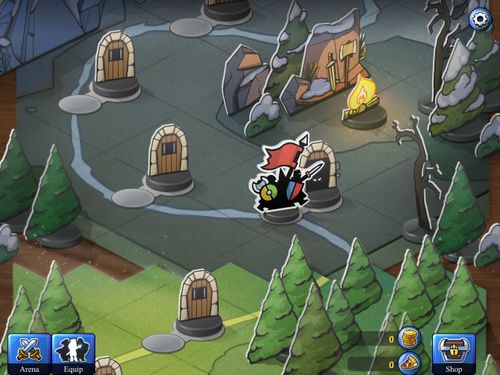 The Rise of "Boardgame-Like" Games
The culmination of the trends and industry challenges discussed above points a big fat arrow towards the rise of "boardgame-like" games. You have boardgame players reaching into the mobile and videogame market space by way of boardgame ports. You have app developers saying, "hey there's a market here for premium strategy games given successful boardgame ports." And you have serious videogamers turning towards premium mobile games (strategy titles among them) for all the various reasons that have been discussed.
The culmination of this article is the following messy sentiment (I'm imagining a developer saying this): "
Whow, these hobby boardgames create deep/challenging experiences with relatively simple mechanics, and as a result are appealing to both serious and casual gamers! We can create new boardgame-like games that can tap into both audiences while also delivering a game that is at home on both mobile and non-mobile platforms. It's a quadruple win!
"
I've come across a number of videogames that make reference to "boardgame-like" properties, or mentions that game developers play and were inspired by boardgame. Sid Meier's crew behind the
Sid Meier's Starships!
supposedly drew influences from boardgames (I'm wondering which ones, because the game isn't that great IMHO, but I digress).
The question then is what exactly constitutes a boardgame-like game? Obviously a proper "boardgame" or tabletop game is one that is played entirely with physical, analog game components and that requires to the player to process all the changes in the game state. When making the jump to a digital medium, what is it about the fundamental design and operations of boardgames that can make the jump as well? I think there are a few underpinnings to games with a more "boardgame-like" design.
Transparency of Mechanics
. Given that boardgames are analog and humans have to "process" the game state, it goes without saying that the rules that determine the mechanics need to be understandable and manageable. So in boardgames, the mechanics are fully "transparent" to the player. There is no black box of programming algorithms that you dump decisions into and then get the results spit back at you. When you do something in a boardgame, you can follow the mechanical how's and why's your decision led to a particular result.
This is a departure from the design of a lot of videogames, where there can be all kinds of hidden shenanigans going on in the background that shape the game world and respond to player actions. And for a lot of types of videogames, this approach works well. First person shooters, or heavily narrative, experience-first type of games come to mind, where you don't really want the mechanics and numbers getting in the way of your sense of immersion.
The
design appeal
is that if the mechanics are transparent and comprehensible, it makes games easier to learn the game and moves players towards improving their skills sooner, which hopefully triggers their sense of reward and keeps them playing.
Simple Math & Systems
. Put simply, most boardgames don't require complicated algorithms, formulas, or functions to process changes in the game state. Math is kept comparatively simple. In most games there is no need to write numbers or anything down, although occasionally that can prove useful. In other games, there might be more complex optimizations or cost-benefit type decisions to work out, but rarely do they require a calculator, and most are still predicated on relatively simple math equations.
In videogames, as mechanics are processed by a computer, it is tempting and commonplace to have all sorts of higher order mathematics underpinning gameplay systems. On one hand, this opens up the door for more realism and simulation fidelity in a game, i.e. the dynamics that your game creates can be a more accurate model of the game's assumed reality. On the other hand, even if these formulas are known and presented to the player, it is vastly more complex to work through the ramifications of a particular decision if you try to run it through the math.
The
design appeal
for basic math and simplicity also goes back to accessibility. In the boardgame design realm, there is always an interest in reducing complexity while retaining or increasing strategic depth. Complexity is not necessary for creating depth; and a boardgame-like game may embrace this sentiment as well and resist the urge to layer more systems into the design and instead keep it simple.
Action Choice Driven
. Boardgame require structure to how players take and perform actions in the game. There are mechanics that control the order in which players take their turns, or limits the range of actions or choices that are available to players are a particular moment in time. Part of this is born out of the practical realities of playing a physical game, i.e. most games aren't a free for all of chaos with players taking their turns whenever they want.
Part of it also relates to things like reducing downtime or analysis paralysis. If players have a menu of six actions and they can only perform one on their turn, it keeps their action planning focused and the pace of the game moving. If a player has a menu of six actions and they can perform any number of them in any order, player turns will take forever.
Yet the net effect of boardgame action mechanics goes beyond just managing these practicalities; they are often a source of strategic depth and challenge on their own. Turn order and ways of changing turn order can add a strategic element to the gameplay. Being restricted to one or two actions a turn forces the player to make trade-offs that consider all the moves of their opponent more carefully, and so on. So many of these uniquely boardgame mechanics can readily transcend beyond their roots and have applications in other types of games as well.
Wrap-Ups & Wishful Thoughts
This became way longer than intended, so thank you for bearing with me to end if you are still reading this!
In summary, I'll say that this has been a challenging set of topics and issues to pull together. And I'm not sure I succeeded fully in the endeavor. But the takeway from all of this is my sense that boardgames are penetrating their way back into videogame design practices. In part this may be due to digital ports of boardgames raising awareness. It may also be due to developing cross-platform games being ideally suited to strategy games and board-game like design notions. If the game is relatively simple yet deep, it can probably be implemented effectively on mobile platforms and it may stand a better chance of attracting both casual and serious video gamers. And among boardgamers, if there is a slowdown in physical game acquisition, digital boardgame-like games offer fertile grounds to explore.